Discover more from Juan David's Newsletter
The adventures of being a curiously ambitious teenager through the lenses of optimism, science, and entrepreneurship.
Juan David's Newsletter - October 11, 2020
18th Birthday, Don't Apply for Internships/Jobs, and Conversation with YCombinator CEO
Hi there,
I don't have that many birthdays every year but I had one this week.
On the day of my birthday, my friends surprised me by decorating my dorm door, writing me a card, customizing my "work" chair, and even buying me my favorite dessert.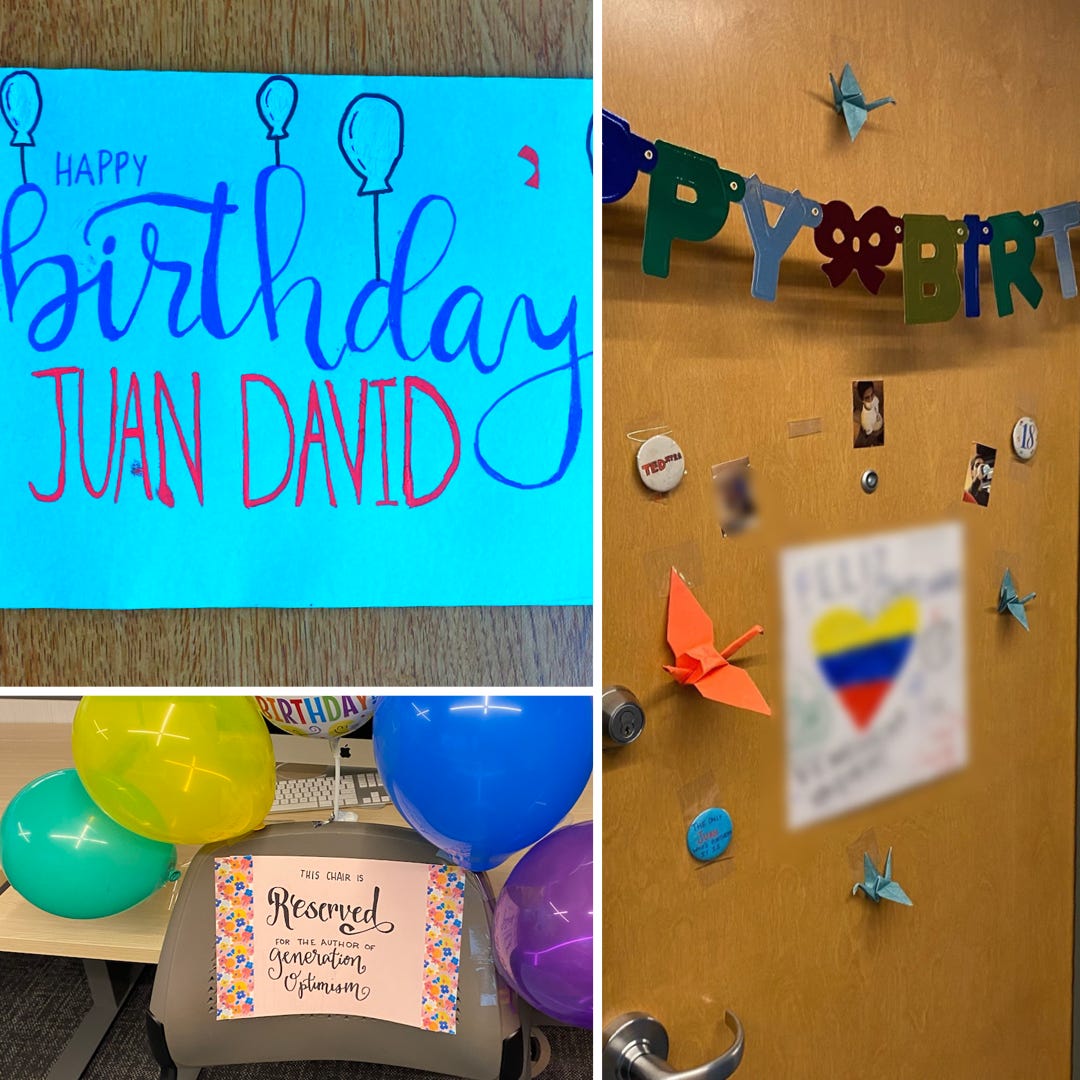 They made this birthday special and one to remember!
As I turned 18, I was reflecting on the lessons and principles that have influenced my life up to this point so I decided to write an essay and share it.
Enjoy and let me know your favorite one!
Don't forget to check out this week's Curiosities 👨‍💻🎤🦄
---
18 Lessons of My First 18 Years
If you prefer, you can read this essay on my website.
I recently turned 18, and I was reflecting on the lessons and principles that have shaped my life. 
These will hopefully inspire you to be more Curious, more Optimistic, and more Ambitious.

1. Bite Off More Than You Can Chew
Many of our limits are self-imposed. We don't know how far we can go unless we try. 
That's why it's better to aim high and if you fail, you can readjust. But if you succeed, you'll achieve something you didn't think was possible.
2. On Ambiguity
The answer is not "Yes" or "No." It's both. The electron is not a wave or a particle. It's both. The argument is not "right" or "wrong." It's both.
The world is more probabilistic than we think. 
Be ready to adapt. Be ready to change.
3. Learn From Others People Mistakes
A smart person learns from his/her own mistakes. A wise person learns from other people's mistakes. 
Billions of people have lived before me. The chances of at least one person having the same problems/questions as me are nearly 100%.
---
Curiosities 👨‍💻🎤🦄
1. Get Internships/Jobs Without Applying
I was having lunch with a friend yesterday and he was telling me how he wanted to work in the car industry. He was applying for "Ok" companies and as soon as he told me this. I just said, "STOP."
I suggested him to look in cutting-edge places in the automotive industry and most importantly I told him to NOT APPLY. That was key!
My friend Avthar wrote this article and encapsulates most of my thoughts on how you can get internships/jobs at competitive places.
Check it out HERE.
2. Performative Speaking
I signed up for my friend Robbie's public speaking course and I can't wait to improve my speaking skills (I need to get way betterrrrrr).
Robbie is a public speaking professor and Trial Lawyer with 102 Jury Trials. He's a master at public speaking. Really excited to learn from him!
He still has a few spots left and it would be great to take the course together. If you're a student, he's offering scholarships too!
Check out the course HERE
3. Montessori at Home
Higher Ground Education is launching a FREE one-week certificate course on applying Montessori principles in a home environment. Ideal for prospective nannies or early educators, as well as for new & expectant parents. Highly recommend it!
Take a look HERE.
Every time I write a new essay, I have to think about the structure. How I express my ideas (not the ideas) is the most important thing.
If you are struggling with writing, having a set of structures will help. Take a look HERE.
5. You Can't Be The Average Your Average
I talked to the co-founder of Twitch and the CEO of YCombinator this week, and he shared a powerful and counterintuitive about being the best at what you do, especially in startups.
He suggested that if you're starting a startup or play in the NBA. You can't be the average of people around you. Imagine being the average of your high school or college basketball team. YOU WON'T MAKE IT.
Similarly, the average outcome in startups is DEATH.
---
The key to productivity is not needing to think about what you will do. Write it out in advance and focus on the task at hand presently.
Please give me feedback on Twitter. Did you like the essay? Which Curiosity was your favorite? What do you want more or less of? Other suggestions? Just send a tweet at @jdcampolargo!
Until Next Sunday,
Juan David Campolargo