Discover more from Juan David's Newsletter
The adventures of being a curiously ambitious teenager through the lenses of optimism, science, and entrepreneurship.
Juan David's Newsletter - July 19, 2020
Happy & Ambitious? How to be Both?, UltraLearning, and the Milky Way.
Happy Sunday,
I hope you're having an A+ week.
It's almost August and the summer is coming to an end rapidly. For me, that means starting college. With that in mind, I've been learning strategies to study effectively to maximize my time there (or at home). Who knows where I'll be in the fall?
If you have any tips or advice about college, send them my way! I'd appreciate that.
————
This week's essay is about how most people live their lives. Most people are either ambitious and miserable or not ambitious and happy. However, there's a third unknown alternative where we could combine ambition and happiness.
Welcome to the ones of you who have joined us since last Sunday! If you're reading this but haven't subscribed, join hundreds of curious and fascinating people by subscribing here!
Don't forget to check out the Curiosities 🙀🧨🤩 section below!
---
Happy & Ambitious? How to be Both?
If you prefer, you can read this essay on my website.
Bill and Robin were young boys who wanted to be successful and happy. 
Bill was anxious about the future. He developed a statistical process to reduce making mistakes to achieve his goals: being successful and happy. He thought he needed money or status to be happy. Bill thought when he had those things, he would achieve his goals. 
Robin also had similar goals. He had a different strategy and he focused on living presently. He knew that success and happiness could not be pursued because they ensued. He was happy with the little he had. Robin didn't have goals or ambitions, he went with the flow.  
Bill came back to visit his parents and saw Robin buying groceries. Robin was happy to see his friend Bill, Robin asked him where he lived and what his job was. Bill says he became an investment banker at a prestigious bank in New York City. 
Robin now knew why his friend looked like he was 10 years older.
Robin told Bill that after graduation he traveled the world for a year. He met his wife in Thailand. Robin says he works as a local tutor and teaches music. He does that part time during the school year. During vacations, he along with his wife and kids travel the world. 
They talked for a bit and decided to meet next Wednesday for coffee.
Bill and Robin met at the local coffee shop. They wanted to ask each other how they were truly feeling. But neither of them dared to ask that question so they talked about memories, family, work, and the usual boring small talk stuff. 
Then, Jermaine entered the coffee shop. When Bill and Robin saw him walk across the coffee shop, they asked each other whether he was the person they thought he was. He walked with the confidence of Tony Stark and expressed kindness by the feature of his face.
Jermaine also went to the same high school. Jermaine was one of those "weird kids" when he was growing up. He was a person who was smart, but who treated school as a day job, meaning he did well, but was focused on other projects. He was competitive in school and sports. He was also creative, ingenious, and wicked-smart. 
When Jermaine walked in, he didn't see his old high school friends.On the way out, he saw his peers talking to each other. He thought, "Is that one the kid (Bill) who wanted to get all A's and was anxious about everything? Is he also talking to the happy-go-lucky kid (Robin) who barely went to his classes?
Jermaine stopped by and started talking to Bill and Robin. He asked how they were doing. Jermaine also asked whether they still lived in town. 
Bill and Robin asked what about Jermaine's job. Jermaine said that he graduated from college and that during college he started working with science professors. He patented inventions and sold them. Also, during his time there he created companies that were sold and one that he still has, which sells real estate in the virtual world.
Jermaine said he would stay, but he had a meeting with clients. Jermaine told them they should come over to his house to meet his family. 
Jermaine left. 
Bill and Robin were baffled. They couldn't believe this guy had achieved this level of success. 
Bill and Robin had a weird feeling between them. They knew they weren't truly happy and had a bittersweet feeling. 
It was regret.
Bill and Robin spent about two hours talking and promised to stay in touch.
They couldn't stop thinking about Jermaine. 
An Unknown Alternative
Bill is an example of insecure people who use "success," money, and hard-work to ignore his reality and his true feelings. People like Bill aren't and will never be happy because they will never have enough of what they want. 
They are insecure because they think having X will give them Y. Bill always wants more and more. Therefore, he doesn't enjoy what he has and is never happy. 
Robin is the other extreme. You may even think he is one of the good guys of the story. He is supposedly "happy."
He knows he needs nothing to be happy. He decides to be happy and he is. Because of that, he doesn't want more in the future. While Robin thinks he is happy, in reality, he is running away from his reality. 
Just as Bill ignores his reality by working hard, Robin ignores his reality by thinking he is happy if he travels and works part-time. 
Extremes ended up having the same outcome. Here, never being happy. 
Robin and Bill use the perspective of imagining the other's life as a way to understand their regret. 
That is how most people approach their life. You either work hard and maybe you will be happy. Or you are "happy" and relax. 
This is how we think. This is how humans think. We think in terms of either A or B, either X or Y. 
We think we cannot get both A and B or X and Y. 
If you're thinking of choosing. Choose both. 
As Bill and Robin were talking and having a conversation. Jermaine shows up and just by looking at him, you get a different vibe.
You can appreciate what you have, but you can also have aspirations. 
Jermaine didn't wait for something to be happy. He appreciated what he had, but wanted more in the future because he believes he could help people. He didn't want more out of vanity.
We don't see this often, we mostly see people like Bill and Robin, but not many Jermaines. 
Jermaines are both happy and ambitious, grateful and motivated, and thankful and determined.
Let's try being like Jermaine!
———
Thanks to Dipan, Charlie, JC, and Prianka for reading drafts of this essay.
---
Curiosities 🙀🧨🤩
My friend, Brandon, wrote a book about a new perspective for Gen Z on happiness, positivity, and optimism. Brandon reached out to me when he started writing his book, and I'm super proud and impressed by how far he's gotten in the process.
Brandon's hope with his book is that readers will discover how their own unique happiness fingerprint plays a role in their life.
He just launched a pre-sale campaign for his book, so if you'd like to support his book and grab a copy. Click here!
I already ordered mine!
I found this alternative strategy to have a high net worth.
"Firmly believe the most certain path to building a high net worth ($10M plus) is buying a small business at a relatively young age"
Brandon who has applied this strategy over and over again wrote this twitter thread on how to exactly do that. Check out here!
If this sounds interesting to you, reply to this email and I'll share other resources I've found.
I've been making daily vlogs for almost 100 days! I will get to 100 this week. I will share my lessons next week.
I keep making progress. 14.8 hours is like 30 minutes everyday of people watching my ideas.

If you haven't subscribed, be sure sure to do so!
I met Sigil on LinkedIn early this year. I'm particularly impressed with how good his YouTube videos and the quality of the content he produces!
In this video, he explains how he learned AP Calculus BC in 5 days and got a perfect score. In the video, he also explains all the ultralearning hacks he used!
Check out his video and subscribe to this channel!
This is how the Milky Way looks in different wavelengths.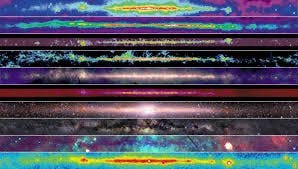 Can you guess how we see it?
---
Do you know anyone who is misperceived as "lazy"?
That person isn't lazy or unambitious. He/she hasn't found their big idea.
Once they do, get ready because they're going all in. We can only help them find and explore those ideas!
Please give me feedback on Twitter. Did you like the essay? Which Curiosity was your favorite? What do you want more or less of? Other suggestions? Just send a tweet at @jdcampolargo!
Thanks for reading,
Juan David Campolargo
----------------
Juan David Campolargo 🚀
Twitter: @jdcampolargo 🧠
Blogging at JuanDavidCampolargo.com ✍️
Weekly Memos & Updates: HERE 🙀
Watch my TEDx Talk, 'Inspiring the Next Generations to be More Optimistic,' HERE