Discover more from Juan David's Newsletter
The adventures of being a curiously ambitious teenager through the lenses of optimism, science, and entrepreneurship.
Juan David's Newsletter - August 2, 2020
Internet Friendships, Big Tech & Tik Tok, and JFK.
Hey there,
My Eric Weinstein essay has been one of my most popular essays ever! If you haven't read it yet, you're missing out. Check it out here!
August is here and college is less than 20 days away. Next week, I'll share with you an essay explaining my thought-process of why I'm going to college. Looking forward to hearing your thoughts!
—————
This week's essay is about friendships in the internet era. How interests are not as important as you'd think, how to use weak ties and the powerful force of vulnerability.
Welcome to the ones of you who have joined us since last Sunday! If you're reading this but haven't subscribed, join hundreds of curious and fascinating people by subscribing here!
As always, scroll down to find out this week's Curiosities 🙀🧨🤩!
---
Frequency + Common Goal + Vulnerability = Great Friends
If you prefer, you can read this essay on my website.
Friends don't need to have similar interests. They need a common goal.
Who would you say your friends are? Would you say those who you grew up close with? Those whom you work with? Well, some of my best friends are all over the world and they all have different interests. 
How can we be friends then? Don't you have to have similar interests to be friends? Nope.
We're friends because beyond interest, we have one common purpose, one common goal. 
I took an online writing course called Write of Passage where I met these friends. In the course, students get together to write and get feedback on the weekends. 
The course ended, but we kept the sessions going after one of these awesome friends named Adam took the lead and offered to host the sessions every weekend. 
Recently, I've realized how close we've gotten in less than four months. I suppose if you meet and talk to the same people every weekend, that happens naturally. I also can't believe how much I've learned from every single one. I feel like I'm a different and better person.
Good Friendships = Frequency
I also noticed an interesting pattern about friendships and how friendships are made. Friendships are not made with similar interests, rather friendships are made with frequency. 
In our writing group, we all come from different backgrounds, different ages, different places, different languages, and different interests. We could not be more different from each other.
Yet we've become close friends.
How does that happen? We all come from different angles, but we all have a point that we are trying to achieve: to write consistently and publish every week. 
You may think, "You all met at Write of Passage and you all wanted to become online writers." Not true, most of us did not want to become online writers, but were looking to create opportunities, create businesses, share their lessons and stories, or change careers. 
None of us like writing. I write because I can humbly share my ideas and help others and create opportunities. 
Frequency and a common goal are major factors, but it's not enough to become great friends. Something else is needed. 
Share Vulnerability
We can have one goal and be all happy about it, but this special factor made us close, and that is that we know we suck (at least I do) and we are all trying to be better. 
We share vulnerability as a platform for friendship. 
We give feedback and constructive criticism all the time. When I log in to the video chat, I know I will learn something and improve as a person and as a writer.
As we get older, it's harder to make friends, our friends usually become people we spend the most time together. If you want to make other friends, you need to be more intentional with your time and commitments. 
In The Strength of Weak Ties, Dr. Granovetter explains the importance of establishing relationships with people outside our close circles and how the biggest life opportunities come from these external connections (the so-called "weak ties"). 
With the internet, the commitments become less tedious and allow you to make friends with people all around the world and soon the galaxy. You don't need to have similar interests or be close to them. You can take advantage of the weak ties to find your most important life opportunities. 
To make really good friends, focus on frequency and sharing vulnerability as a platform for friendship while remembering to befriend people outside our close circles. 
Friendships are not made with similar interests. Friendships are made with frequency, vulnerability, and one greater goal. 
Thanks to Saverio, Rishi, and Ayomide.
---
Curiosities 🙀🧨🤩
Where did the dinosaurs go? Asteroids, right? Not so fast.
The belief that dinosaurs died because of an asteroid is recent. People thought dinosaurs died because they had little brains.
Eugene Shoemaker made the asteroid hypothesis. Then, oil companies also discovered a rim that went around the golf of Mexico which led us to understand where the steroid hit the world and wiped out the dinosaurs.
While I'd like to say how bold and contrarian I was.
I probably just forgot my shirt.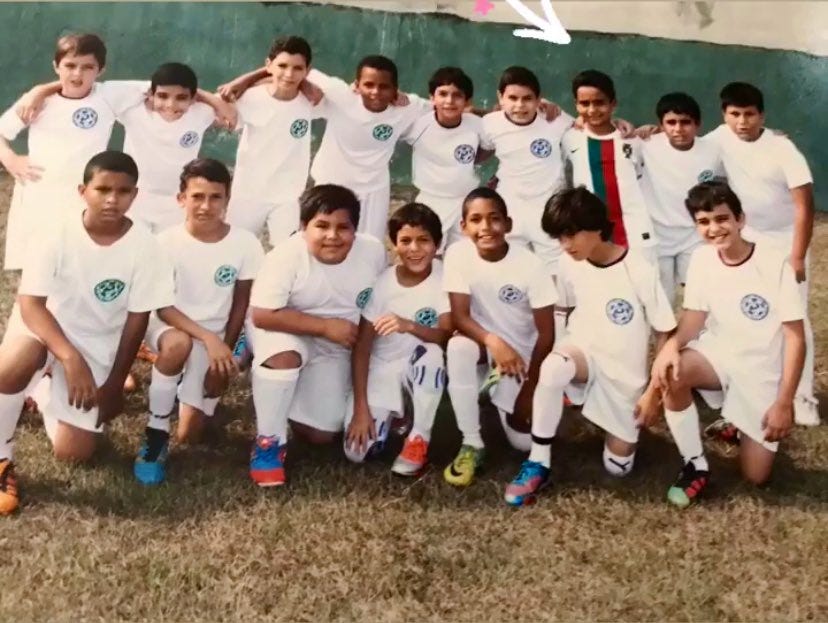 At the time, I'm sure I was mad because I didn't have the shirt but looking back these are the moments that help you practice not caring about other people's opinions and learning to be yourself.
More importantly, that was a perfect way to stand out. Your eyes went directly to the different kid and that was me. Want to stand out? Be different.
JFK gave this speech when he announced that America was going to the Moon. This speech was incredibly inspiring, especially when he gave a recap of the history of progress. Here's an excerpt:
If this capsule history of our progress teaches us anything, it is that

man, in his quest for knowledge and progress, is determined and

cannot be deterred. The exploration of space will go ahead,

whether we join in it or not, and it is one of the great adventures of

all time, and no nation which expects to be the leader of other

nations can expect to stay behind in the race for space.
Watch JFK announcing the Apollo Program, summarizing the history of progress & technology, and giving inspiring words HERE.
Big Tech CEOs from Apple. Amazon, Google, and Facebook were called to testify as part of the antitrust investigation.
Some of the arguments might be true but we need to remember how they became dominant in the first place.
They dominate because consumers LIKE them.
There was a lot of talking about banning Tik Tok because of a bunch of different reasons, especially privacy concerns.
This is similar to the big tech companies. To understand the situation and figure out what to do. It's key to explore why these companies become successful in the first place.
So why did Tik Tok become successful?
Humans prefer video to photos to text

TikTok makes it easy to create videos, ensuring a massive supply of content (even if most of the supply is low quality)

TikTok relies on the algorithm to surface compelling content and is not constrained by your social network

From Ben Thompson.
If you want to understand more about the banning of Tik Tok, read this article.
---
Who do you know best? Your family? Your friends? WRONG. Who you know best is YOURSELF.
You don't really know anyone, but the past versions of yourself.
When you're creating a product, writing an essay, or making a video. Having a persona helps you fill in the gaps of understanding and make X more appealing. Who's better than yourself?
Consider a past, present, or future version of yourself for your next creation.
Please give me feedback on Twitter. Did you like the essay? Which Curiosity was your favorite? What do you want more or less of? Other suggestions? Just send a tweet at @jdcampolargo!
Thanks for reading,
Juan David Campolargo
----------------
Juan David Campolargo 🚀
Twitter: @jdcampolargo 🧠
Blogging at JuanDavidCampolargo.com ✍️
Weekly Memos & Updates: HERE 🙀
Watch my TEDx Talk, 'Inspiring the Next Generations to be More Optimistic,' HERE