Discover more from Juan David's Newsletter
The adventures of being a curiously ambitious teenager through the lenses of optimism, science, and entrepreneurship.
Juan David's Newsletter- April 5, 2020
Hi there,
I truly hope you're doing well and enjoying these times. Yes! These times are tough, but we can all take advantage by learning a new skill, finishing that project, calling that friend, watching that movie (maybe not, but sure), eating well, exercising, and doing what makes you happy.
Enjoy!
---
Confidence is a Game. Here's how the 14-year-old version of me played it
If it's easier, you can also read this article on my website.
If you're reading this now, you probably think I'm a confident person. And if you even know a little more about me from watching my TEDx Talks or reading my book, you would be pretty sure I'm a confident person. 
You probably wouldn't think a timid 17-year-old would give TEDx Talks in front of 700+ people.
This is my journey through the peculiar question of confidence:
I was a person who was, in fact, never confident. I was like most people my age. I would care about what they thought about me, and this seemingly never-ending thread of thoughts and narratives going through my head would be so overwhelming that I, like most people, would not dare to talk to that person, raise my hand in class, stand up when something wasn't right, or even abstaining from doing simple acts such as saying "Hi" to someone in the hallway. 
So what changed? How can you learn from my journey?
READ the full article at https://www.juandavidcampolargo.com/blog/confidence
---
Curiosities
Curiosity #1
Audible is offering FREE books and stories for as long as schools are closed. You can instantly stream a great collection of stories, including titles across more than 5 different languages.
Here is the link
Curiosity #2
I'm really excited to share this one.
I've been using an AI tool called FutureLoop to scan global news and social for breaking news about converging exponential technologies that positively impact the world, my interests, and industries I care about.
FutureLoop is in private beta and they offered me the ability to invite you to join this service for free. Click on this link to sign up. —> https://futureloop.com/i/382/ok0e7tWLAo/ 
Curiosity #$
I've only watched two TV shows/series ever in my life, that's probably going to be true for a long time. Personally, I'd rather do something else.
One of these two is called La Casa de Papel (or Money Heist). This is one of the best TV shows, I've ever watched, and they released a new season last Friday.
It's a remarkable combination of great characters, plot, and symbolism.
44 million people can't be wrong, including Stephen King and Neymar.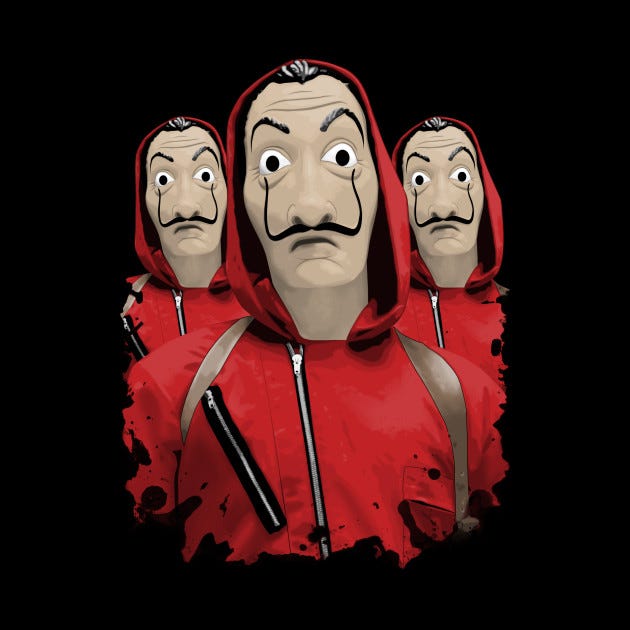 Curiosity #4
Stanford professor on the importance of focus and deep work.
"I have been a happy man ever since January 1, 1990, when I no longer had an email address. I'd used email since about 1975, and it seems to me that 15 years of email is plenty for one lifetime.

Email is a wonderful thing for people whose role in life is to be on top of things. But not for me; my role is to be on the bottom of things. What I do takes long hours of studying and uninterruptible concentration." - Prof. Donald E. Knuth
Email and social media are tools that take so much of my time. Here's what I'm thinking of doing:
Checking Email/Social Media once a day. Then, moving to once a week.
Curiosity #5
There are areas where competition is fierce. Being the better or the best isn't necessarily going to help you.
I'm starting to get in involved in two fields (Writing & Data Science), these fields are super competitive, there is one way to stand out in any field that you get involved in.
SHARING YOUR IDEAS ONLINE. Having a blog where you share your knowledge online (even if you are just learning) will make a huge difference, even when you're looking for a job.
---
It's already April! Can you believe it? I've always wondered why our perception of time speeds up as we age. Greater perspective? Our Brains? Time Relativity?
Hard question to answer, but I found a solution, frequent meditation. Meditation is a buzz word, but what meditation really is the art of doing NOTHING.
This week, I invite to take a few minutes to do nothing, absolutely nothing.
Have a great start of your week and I'll see you next Sunday!
Regards,
Juan David Campolargo